18650 Battery Case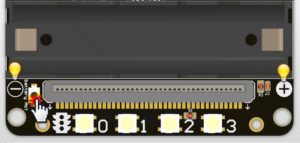 Once you got your RobotBit extension board please first install a 18650 battery, pay attention to the positive and negative pole (even we have anti-reverse protection). You have to activate the power management system by pressing the Battery Act push button. Each time you switch a battery cell or let the power management go into protection mode (over current or over discharge), you have to redo this step.
18650 Power Switch

Turn on the switch (in the direction of green terminal input), will provide onboard 3.3V 5V and VM(motors and servos directly driver by battery cell)
Micro USB charger port

Only for charging and not for download! Computer USB host port or any other mobile phone charger which may output 1A or larger should be fine and may take about 2.5 hours to fully charge a 18650 cell. it will automatically cut off once full, no need to worry about overshoot.
Power and battery indicator
Led(3) is the power indicator, will be always on after switch is turned on. Led(1) is charging indicator, will be on while charing and Led(2) be on once fully charged.
Micro:bit stand edge connector
For installing Microbit mainboard. Please install Microbit with led matrix and RGB led in the same direction.
4x RGB neopixel

The robotbit extension for makecode has integrated neopixel support. Neopixel array connect to P16 of microbit.
8 channel servo connector

Servos are driven by an extension chip (PCA9685) with the power source from battery or external input.The extension chip communicates with Microbit via the i2c interface, so these S1~S8 interfaces can only be used for pulse output not as common IO. With onboard 18650 battery cell, it may drive eight 9g hobby servo (with maximum current less than 2A). If you plan to use larger servos like MG995 please use an external power resource connect to the green slot (the input still 5V). Robotbit extension has built-in blocks for controlling servos.
4 channel DC motors / 2 channel 28BYJ micro steppers

Robotbit extension has also built-in blocks for DC motors and steppers. With onboard cell you may drive 4x TT motors or 2x 28BYJ steppers, or a mixture of theese. Keep in mind that VM may out 2A to motors and servos. If you use external source please keep the input around 5V or less, a high voltage external input may damage the 5V boost circuit.
Buzzer and the selection jumper

The buzzer jumper cap is plugged in by default, and the corresponding buzzer is connected to the Micro:bit P0 port. If you need P0 for other purposes please unplug the jumper. The buzzer associate to music blocks in makecode.
Micro:bit IO

We have released P0-P2、P8、P12-P15 from Microbit to Robotbit for common IO usage. P0~P2 has analog read/write support, others may act as digital IOs. You may connect commonly modules for Arduino to Robotbit, there is also 5V output in case your module only support 5V power input. Please note that Microbit IO signal level is 3.3V.
I2C Interface

Expandable I2C module, can only be used to plug in I2C module.
2PIN External Power Input

Although there is anti-reverse protection, but still pay attention while wiring. The positive and negative silkink of this interface is on the back of Robotbit. You can only input 5V or less into this port. If you have a higher voltage source you may need a LDO or DC-DC module to buck the voltage down.